Top 5 Celebrity Hockey Fans
Despite some people saying that after the lockout in 2004 and then again in the 2012-2013 season the NHL has lost its fan base, there are those diehard fans keeping the spirit of hockey alive. Amongst these common hockey fans mingle a few Hollywood faces. From the red carpet to the rink, it is obvious that several celebrities love them some puck.
Here are the NHL's top 5 celebrity hockey fans and the teams they love. 
5) Alice Cooper ~ Phoenix Coyotes
Dropping the puck at the Coyotes vs. Stars game on February 18, 2012, with the first 10,000 fans receiving a Alice Cooper bobble head clad in a Yotes jersey. Then making surprise appearances along the way such as February 7, 2014, when Cooper joined his sons band CO-OP for three songs during the second intermission of the Coyotes game versus the Blackhawks, Cooper definitely has shown his love for the game.
4) Viggo Mortensen ~ Montreal Canadiens
Introducing his childhood idol Guy Lafleur before the Centennial game on December 4, 2009, and dedicating his 2012 Genie Award for Best Supporting Actor for his role in David Cronenberg's "A Dangerous Method" to the Montreal Canadiens, Mortensen without question has a life-long passion for the puck.
3) David Beckham ~ Los Angeles Kings
Spotted at the Staples Center since 2009, Beckham has made various appearances at Kings game with his family. From hoisting the Stanley Cup at a celebration at the Ritz-Carleton in 2012, to kissing his daughter Harper on the Kiss Cam at a game in 2013, Beckham also shares a love for the ice.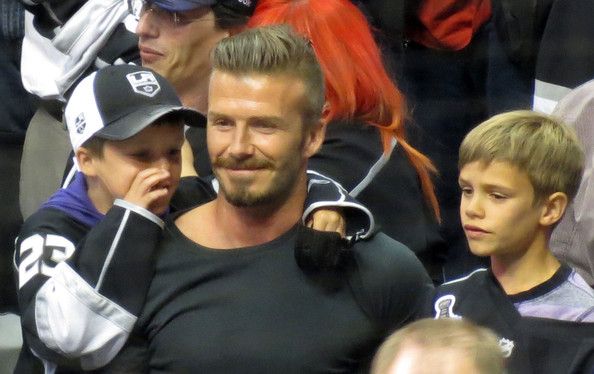 2) Vince Vaughn ~ Chicago Blackhawks
Vaughn is a season ticket holder of the Blackhawks and even bets his heart for his team as he did on the "Tonight Show with Jay Leno," in 2013. Vaughn would also be proud of his teams representation thus far in the 2014 Stanley Cup Playoffs. We will be looking for Vince Vaughn on the Kiss Cam too!
1) Adam Sandler ~ Boston Bruins
Sporting the jersey of his favorite hockey team in his film Happy Gilmore and attending the Stanley Cup Parade in Boston in 2011, Sandler has been known to pay homage to the Bruin's regularly, raised close to Boston in Manchester, NH, it is understandable why Sandler bleeds black and gold. It is safe to say that the picture below captures how Sandler was feeling after his beloved Bruin's were eliminated from the Stanley Cups playoffs by their rivaled Montreal Canadiens.
(Photo Credit: Photobucket)